Affordable, On-Demand Air Conditioning For Your Home
Wall split systems are popular for those who want the flexibility of both heating in winter and cooling in summer, without the costs associated with ducted systems. Wall-mounted split system air conditioners are a great solution for controlling the temperature in just one area of the home.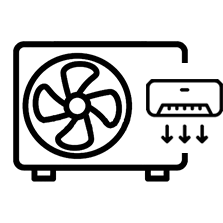 Air Conditioning Systems That Grow With Your Family
If you can't bear to suffer through another Australian summer, then why not consider a wall split system? More cost effective than whole-home systems, you can heat and cool just the most commonly used areas, like a combined family and kitchen area, or individual bedrooms.
Due to their lower price point, reverse cycle wall split systems have been noted to be a cost-effective home upgrade that adds more value than it costs to install. So not only are you improving your everyday life in the here and now, you're also making a wise choice for your future investment.
Headache-Free Repairs and Maintenance
There's nothing more frustrating than when your air conditioner experiences issues during the heat of summer. The good news is that it will never be something you have to worry about when you install wall-mounted split systems.
With specialist wall split service technicians on hand, and impressive warranties for your peace of mind, there will be no disruption to your home comfort.
Low Environmental Footprint For Year-Round Comfort
While not quite as energy efficient as evaporative cooling systems, reverse cycle wall split systems represent the most eco-friendly option for those who want to both heat and cool an individual room in their home. At Adelaide Heating and Cooling, we install many brands of reverse cycle wall-split systems, such as Daikin, Panasonic, Samsung, Braemar and Actron, all of which have proven highly efficient in minimising energy wastage without compromising on comfort.
Download Wall Split Systems Brochures
Don't Wait Any Longer. Contact us now...