The Best In Year-Round
Comfort For the Whole Family
Ducted reverse cycle air conditioning systems give you the power to choose which rooms you want to heat or cool and which you don't all year round and provide the ultimate level of flexibility. You can have total control to air condition your home with the use of a Zone Control system. This level of control can help you save money on energy costs and help the environment as well, all while ensuring that every member of the family is comfortable.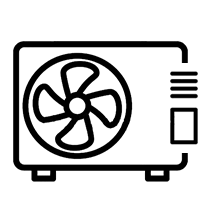 Ducted Reverse Cycle Systems
Seamlessly Integrated Into Your Home
A fantastic feature of ducted reverse cycle systems is their discreet appearance. A ducted reverse cycle air conditioning system is neatly concealed in your roof space and once installed, only the outlets, the return air grille, your wall control and a Zone Controller are visible inside your home. The outdoor unit can be modestly positioned outside your home.
No two homes are the same, so the size, capacity and design of your system will depend upon many factors such as; the size, layout and level of insulation of your home; the size and position of windows and doors; the main use of each area; the number of people living in the home; how much space is available within the ceiling cavity, and your budget. At Adelaide Heating and Cooling, we have more than 20 years of experience designing and installing superior ducted air conditioning, so if you're considering ducted air conditioning, call the helpful team at Adelaide Heating and Cooling for advice on how to get started.
In Investment in Your Family Home
You'll hardly know your ducted reverse cycle system is there, and thanks to the system being custom designed to fit your home, there won't be any hot or cold pockets—just seamless, uninterrupted climate control.
Download Ducted Reverse Cycle Systems Brochures
Don't Wait Any Longer. Contact us now...