Cost-Effectively Warm Your Home's Common Areas
Looking for an alternative to ducted heating to warm your home in winter? A gas wall furnace could be the toasty solution you're after.
Gas wall heaters or furnaces are installed inside your home, with a flue that sends emissions safely out-side. Unlike ducted gas heating systems they are designed to heat one area of your home—usually a living room, retreat, or open-plan living and dining area. And they'll do a much better job than more compact devices designed for smaller spaces—like a radiator or portable heater.
What's great about a flued furnace is that you can add an optional rear register kit for very little cost, which is able to provide heat to an adjoining room using the same flue. That's like two heaters for just a little more than the price of one.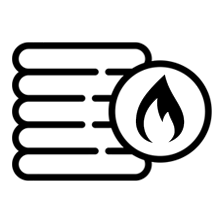 Easy Installation For Instant Warmth
As a heating option, Gas wall furnaces and Gas Space heaters are a great choice because they can be easily fitted to your wall, and come with a stunning "Ivory Sands" finish, which will complement any décor. Wall furnaces are also very cost effective and is a perfect solution for those wanting super efficient and economical heating.
Energy Efficient Choices
Concerned about your impact on the environment? Gas wall furnaces have the lowest carbon emissions of all space heaters on the market.
Braemar Eco-Superstar's range of gas heaters have earned an impressive 4.8 Energy Star Rating, sav-ing you close to 50% of your gas bill compared to other products on the market.
There are two sizes of gas wall furnaces available, so finding your correctly sized gas space heater or wall furnace solution is a breeze. Talk to the informative and knowledgeable team at Adelaide Heating and Cooling to discuss your gas wall furnace or space heater purchase today.
Don't Wait Any Longer. Contact us now...