There's Nothing Like a Warm Fire in Winter
When it comes to wood heaters, Nectre knows warmth.
On those cold winter weekends, or after a long day at work, there's nothing quite like lighting a fire, put-ting the kettle on, and putting your feet up while the room warms around you. Anyone who has grown up in a family home with one of these will know the feeling.
Nectre wood fires and heaters are known for their design, long lifespan thanks to durable construction, and ease of operation. Lighting a fire—and keeping it going for hours—doesn't have to be hard. Come and see us in the Gawler Showroom for some advice on Nectre wood heaters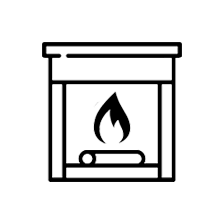 Both Convection and Radiant Wood Heater Designs
There are two main types of wood fires: convection and radiant. At Adelaide Heating and Cooling, we sell both types of wood heaters, and can provide you with the right advice and expertise to ensure you make the right choice for your home and lifestyle.
The differences lie in how the heat travels from the fire and into your home. Convection heaters are constantly circulating warm air around, meaning they'll take a little longer to warm up your space, but they'll soon reach an even, cosy warmth. They're also the best choice for those with little ones around who may be worried about hot surfaces, and those who have well-insulated homes to keep the circulat-ing warm air inside.
Radiant heaters, by contrast, push the heat directly from the outer surface into the room. It's a more in-tense heat, and more instantly heats the space. It is recommended for homes that have very high ceil-ings or those that are particularly prone to draughts—but be very careful as it will be hot to the touch.
Choose the Style That Suits Your Home
At Adelaide Heating and Cooling, we are the experts in wood fires and heaters. We'll guide you through our range of freestanding or inbuilt designs, classic or modern, that can provide cosy warmth to any family home.
Every winter's evening when you curl up in front of your Nectre wood fire, you'll be glad you made the right choice. The Gawler team will guide you through our range.
Don't Wait Any Longer. Call us now…